Figure-Eight Railing for Rehabilitation, Sensorimotor Training
and Therapeutic Practice of Walking
The Infinity WalkAbout is a single or double exercise rail system that offers more functions than medical parallel bars and allows for the practice of Infinity Walk by persons who need sensory guidance or balance support.
Clinic models are height and width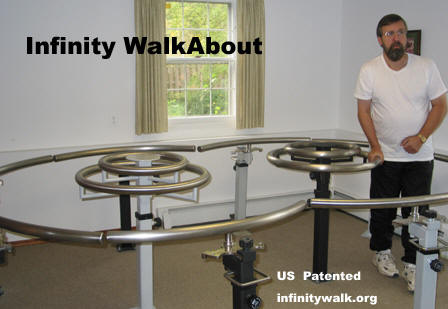 adjustable. Double handrail models are gated so the user may be safely enclosed inside the circling figure-eight rails. Read the feedback from a senior Infinity WalkAbout user with balance difficulties.
Open Infinity WalkAbout rail models with either same-side or alternating side handrails allow the therapist close working contact with the patient. Home-health care and fitness exercise models will also be available in the future.
Northeast Center for Special Care, a cutting-edge brain injury facility with state-of-art specialty rehabilitation programs was first in the United States to purchase the double-railed model. Read their feedback and learn about their innovative program. (Above photo is unrelated.)
Clinicians interested in knowing more about the Infinity WalkAbout should contact Dr. Sunbeck at sunbeck@infinitywalk.org or (585) 381-2270.
Learn the Story Behind the Creation of the Infinity WalkAbout