Infinity Walk Topics
For Preschool Instructors
Up
Keeping Infinity Walk Fun
Preserving Love of Infinity Walking
Small Groups and Special Pairs
Preschool Classroom
Infant & Toddler Stroller Riding
As long as children continue to want to play Infinity Walk, they will continue to use Infinity Walk to master new levels of skills and integrate them into speech and action. Protect your child's love of Infinity Walk. It can be beneficial for many years, and through many stages of development.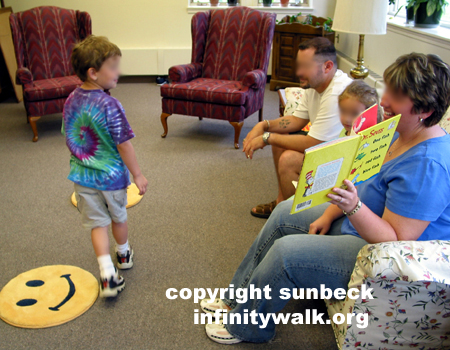 The special attention that a caregiver gives to each Infinity Walker is an important part of creating a good learning environment. As the time nears for experienced Infinity Walkers to start kindergarten, they will have developed a calm, focused capacity to attend to cognitive and language tasks while meeting the sensory and motor challenges of Infinity Walking. They are ready for and wanting additional learning challenges; and, are proud of their developed skill to do so many things well all at the same time.
These older children have reached an age when the successful accomplishment of Infinity Walk's multi-tasking is self-rewarding. The time and attention that caregivers have put into developing the children's Infinity Walking skills has paid off. These friends challenge and support each other in Infinity Walk learning and study skill games.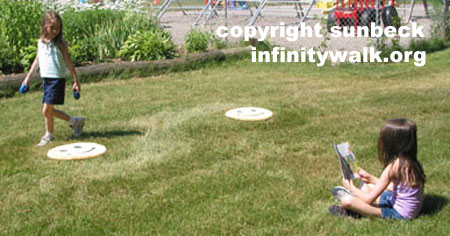 NEXT TOPIC: Infinity Walk in Small Groups or with Specially Paired Children
To learn more about introducing Infinity Walk to preschoolers, the companion video to the 2002 text, The Complete Infinity Walk: BOOK I The Physical Self is recommended
Leonardo Foundation Press 151 Panorama Trail Rochester, New York USA 14625-1843 info@infinitywalk.org
Copyright © Sunbeck, All Rights Reserved Infinity Walk® and Infinity WalkAbout® are US Trademark & Patent Protected