Occupational Therapy Topics
Up
OT Case Report
Infinity Riding
OT Continuing Ed. Course
OT Course Feedback
A person does not need to walk in order to benefit from most of the Infinity Walk method. Try Infinity Riding. The vestibule-oculo-cervical triad (VOC) gets a great workout and bilateral torso rotation can still be engaged. Therapists can add the same progressive attention, cognitive, social and other multi-tasking skill training to Infinity Riding as they do to Infinity Walking.
Add Infinity Walk circuits throughout your day treatment and residential care facility and make Infinity Riding a daily therapeutic transition activity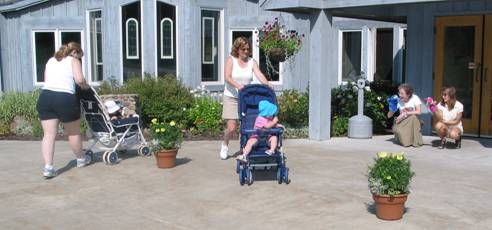 Eye tracking, neck reflex, torso rotation, attention, and many multi-tasking skills can be practiced without needing to actually walk the Infinity Walk figure-eight circuit.
Ways to Infinity Ride
Scooter

Golf cart

Motorized chair

Strollers and wheelchair (pushed)

Riding lawn mower (blades disengaged)

Therapeutic riding horse
Leonardo Foundation Press 151 Panorama Trail Rochester, New York USA 14625-1843 info@infinitywalk.org
Copyright © Sunbeck, All Rights Reserved Infinity Walk® and Infinity WalkAbout® are US Trademark & Patent Protected